Thursday 7th November 10am – 7pm
The One Night Stand Dress Sale has ex-rental evening dresses & ball gowns, a great range of styles and colours, in chiffon, taffeta, lace and jersey, classic and exotic, at very affordable prices. Sizes range from UK 4 to 20. Prices start around £40.
Up To 70% Off Evening & Ball Gown Dresses
Try it on. Buy with confidence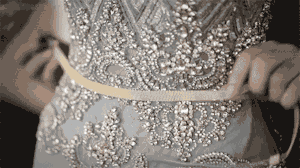 Perfect if you're looking for a party dress, charity ball gown or business event. Great for anything white-tie, black-tie or a smart private occasion.
Wear it, make sure that it's right for you, take it away.
My seamstress, Grace, will be on hand to alter Sale dresses if necessary. We'll also have accessories, jewellery, evening bags and shawls for pocket money prices!
Slide 1
A small taster of dresses in Autumn 2019 Sale...
green-lace-long-sleeve-v-neck-1861-DS
strapless-tulle-wine-embellished-ballgown-6547-DS
gold-lace-open-back-mermaid-gown-0217-4-DS
Royal-Plunging-Off-Shoulder-Embroidered-Gown-DS
Royal-blue-halterneck-ballgown-0217-15-DS
ONS-Spring-Sale-2018-DS
ONS-Pleated-Green-DS
Navy-lace-bodice-bell-skirt-hilo-hem-440-DS
mid-calf-black-strapless-cocktail-dress-2084-DS
trio-off-shoulder-lace-gowns-black-red-blue-0217-3-DS
Fuchsia-Off-shoulder-Mermaid-Half-sleeve-Ball-gown-DS
Emerald-slinky-knotted-neck-evening-dress-DS
black-embellished-U-neck-jersey-gown-3405-DS
Cherry-red-embellished-bodice-chiffon-gown-11-DS
black-white-twin-off-shoulder-sequinned-sleeves-18039-DS
black-lace-bodice-off-shoulder-long-sleeve-6504-DS
black-jersey-cut-out-long-sleeve-side-slit-gown-0217-5-DS
royal-blue-lace-boat-neck-gown-15-DS
emerald-lace-halterneck-party-frock-0217-12-DS
Our Evening Dress Sales are held at our dress hire boutique off King's Road: One Night Stand, 8-9 Chelsea Manor Studios, Flood Street, London SW3 5SR. Find us on Google Maps
Can't Wait?
If you can't make the dress sale but need dressing up, please make an appointment for a fitting. The right style, fit, feel and colour are vital and you just can't do that online! That's what makes us special: we work with you one-to-one by appointment.
A regular formal dress hire from our current collection is around £180 and includes a comprehensive selection and fitting service. It's great value compared to buying new or the hassle and uncertainty of online guesswork. Discover what's so great about our Appointments.
---
There are two ex-rental One Night Stand Dress Sales per year, to make room for new stock, in the Spring and Autumn. Subscribe to our newsletter to get notifications.